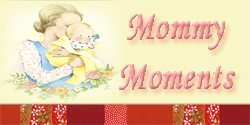 I had to search back for some RED photos as well. Apparently that is not one of my favorite colors either. Hmmmmm......
So, here are my red photos for the week.
Kids bouncing in a RED moon bounce:
Charlotte wearing RED clothes (playing in the sprinklers. LOL) - Age 3:
Tina wearing her RED shirt, modeling her Lava Bottle - Age 11:
Connor in his car seat which has a RED button - Age 6 weeks:
Twins Cheyenne and Courtney wearing RED - Age 3 months:
My cup from Daiquiris and Company with RED writing:
The Rougarou, an old French legend in Louisiana. The "monster" is red. Replica is at the Audubon Zoo in New Orleans.:
The Riverwalk in New Orleans. The letters are RED.:
Carolyn with RED apples - Age 6:
Caitlyn unwrapping a RED present - Age 3:
Raising Cane's, the most awesome chicken place ever, which has a RED sign:
********************************************
Don't forget to join us over at The Mommy Journey for Mommy Moments!