Here I am, 30 years old, and absolutely excited that I finally got tattoos. I went through periods of "I'll never get a tattoo." to "Maybe just a small one." and back around again. About a week and a half ago, I finally decided to get one on my lower back. I had also found one that I wanted on my hand and they agreed to do both at the same time for one price. I got the small one for only $10! Yay! I got them done at New Era here in Houma, La.
Here's the small one: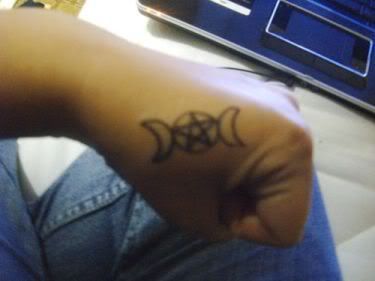 It's the pagan symbol for Goddess. Also, my Wiccan name is Luna from the Roman goddess of the Moon. This symbol has moons on it as well.
Here's the large one on my back: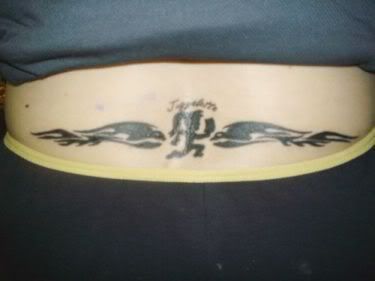 The word above the little girl is "Juggalette" which is the name of a follower of the band Insane Clown Posse. It's really hard core music, so I really don't suggest listening to it if you can't handle hard core.
It took me a long time to decide exactly what I wanted to put on my body forever.
Now, I am conflicted. I have been designing more tattoos (Yep, I am officially addicted to tattoos!).
One is for my miscarried babies.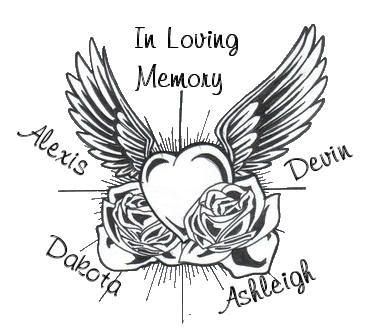 One for me and Chris: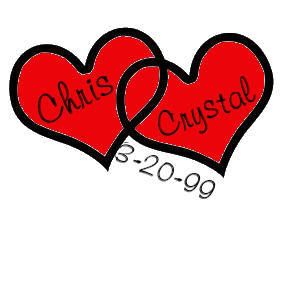 Now, the one I had designed to honor my kids was baby footprints with their names and birthdates around it. My friend took the info and the pic and made me 4 different ones. So, I set up a poll to decide which one to actually get. The pictures are on the poll itself. Link to the poll: http://www.quizilla.com/polls/result/8964948 Password is: Tattoo.