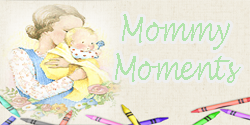 This week's theme for Mommy Moments is Chore time. In all honesty, I wish I could get my kids to do chores these days! They feel they are "royalty" and therefore exempt from work.

Mmmmhmmmm

!
Below are some pictures of my second daughter, Carolyn, back in 2005. These were around her 3rd birthday. I was pregnant with Twins part 1 and was on

bedrest

. I was folding laundry, the one chore I could still do, and Carolyn decided that she wanted to do laundry too. So, she went and got her doll baby clothes and spent HOURS folding, unfolding, and refolding.
I once had a picture of Carolyn when she was about 2 pushing her toy

vacuum

. She loved that toy! Of course now, getting them to do chores is next to impossible! The kids like to play with my

vacuum

now, but scream if I ask them to turn it on and

vacuum

!
Click here to visit Mommy Moments at The Mommy Journey. You can also read about others' Mommy Moments!
Don't forget about the Cans for Comments

Blogathon

! For every new comment I

receive

between November 27 until December 2, I will donate a canned food to my local food bank! See here.